Our two co-artists of the month for May, 2017 at the Opening of their exhibition, Sunday May 7, 2017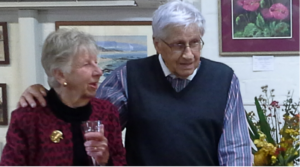 Lois Thompson and Laurie Bicknell
For the month of May we have two Artists of the Month
portraying an eye-catching display of work in only two but very diverse mediums.
Lois Thompson
From a pattern designer for a Knitting Book, Lois has become an ardent pastellist.
She has enjoyed the exploration of using only earth pigments on most of her pastels, which has meant finding and grounding pieces of ochre.
The majority of pastels on display have this earthly quality and Lois has been able to create most simple but appealing works.
"Last of the Fleece", however, is not simple but a stunning pastel using earth pigments. The fleece spilling out of the bales is beautiful and the wicker basket is so realistic.
From earthly tones to "Carmen", "The Tiny Seed" and the children playing on the lovely sand, Lois shows why she loves pastel work.
Laurie Bicknell
The majority of Laurie's work is beautiful calligraphy, in which he excells.
The scribed texts from the Bible and other sources are all so differently and superbly illustrated. What painstaking work!
There also a few smaller framed items, as well as book marks, which would make great little gifts.
A dramatic change of scene in the central panel of the exhibition are three of Laurie's lovely floral pastels.  The Poppies are gorgeous. Two more pastels on display show Laurie's love of nature in "Puss in Boots" and the Kookaburra.
Thank you Lois and Laurie for providing the display this month. It's well worth a visit to the Gallery to see such an eye catching and diversified exhibition.
Moira Treacher,
Artist of the Month Coordinator.