MAUREEN BOWMAN
Maureen is a very accomplished artist in watercolours as well as porcelain painting, and she included such a variety of both in her Artist of the Month display for viewers to enjoy. Her expertise in both mediums is obvious.
The birds on small oblong dishes that Maureen included in her display are all delights. Maureen has left the porcelain white which makes the clean painting of little birds stand out even more. The Magic Mushrooms have the same clean treatment with the addition of crystals. As a contrast is a large plaque depicting the unusual subject of three large elephants.
There are traditional china paintings on display, as well as small pieces showing Maureen's skill at acid etching, gilding, scrolling and enamelling. The decorative treatment she has given to the large square plate depicting the Traditional Geisha Girl is eye catching. The detailed and precise pen-work, the grounding and enamelling, are all expertly done and must have taken great patience and time.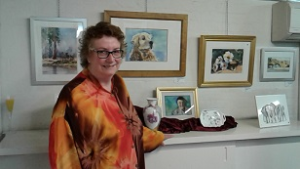 Maureen's watercolours are all done with confident brush strokes. The centrepiece of the show – the large impressive Melbourne Cityscape, contrasting her smaller and gentle landscapes. Also on display are dramatic portraits, florals, outdoor action scenes and animals. The captions on some paintings make the viewer smile. "First Sitting" of her little terrier waiting expectantly for dinner, and the large dog donned with gumboots ready for "Walkies".
Maureen's exhibition shows again what a high standard of artists we have in DTAS.
Congratulations, Maureen, on your lovely work, and thank you for being our Artist of the Month.